Latest Home-Learning News/Blog
Monday 6th April 2020 - Easter Play
Every year, our Year 3 and Year 4 pupils perform an Easter play. Obviously this year, this did not happen. However, the pupils of key workers staged their own production last week. What incredible performances. Well done/
Happy Easter
Friday 3rd April - Happy Easter
Look at what some of our amazing pupils have been learning at home and ............................
and what some of our other amazing pupils have been learning at school!
Friday 3rd April 2020 - Messages of Hope
Good Morning
Today is the last day of term. We have a busy day planned for the children in school. They are going to be finishing their Easter performance, having an Easter egg hunt and then ending the day and term as we usually do with a Celebration Assembly. The children coming in to school each day have been absolutely wonderful. We have all been so amazed at how quickly they have adjusted to changes in school.
I do hope you all find time over Easter to enjoy a rest and some sort of change to you routine. If you are stuck for things to do – please do make use of the many different links on our website. There are a number of excellent free on- line activities. A recent one made known to us is the Hays literature festival –It is called 'Hay Player' and has a bank of interviews with authors over the years including : David Walliams, Michael Rosen, Martin Brown (horrible histories..), Julia Donaldson , Michael Morpurgo and Cressida Cowell.
Once again can I offer my thanks for the support and lovely feedback we have had during this time.
Wishing you all, every health and hope this Easter.
Mrs Burden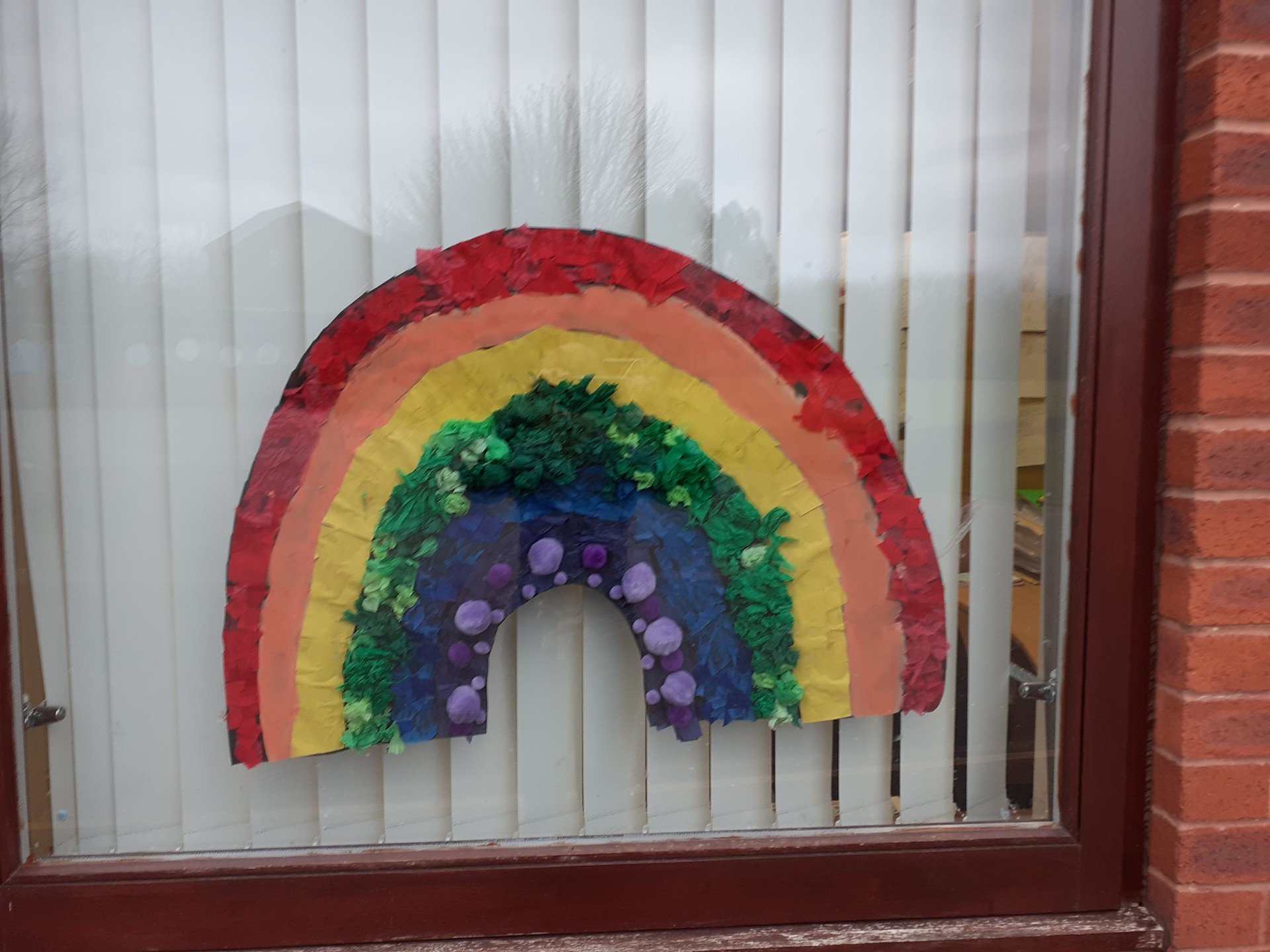 Thursday 2nd April 2020
Good Morning
It is hard to believe that we are almost at the end of Term 4. I know I say at the end of every term how busy it has been – well this term has been like no other term before…
In school we are trying to continue as normal as much as we can and have settled into a routine of Jo Wicks workouts, on- line learning, David Walliams story time at 11 am and outdoor activities. Today the children will also be carrying out activities to get ready for Easter and continue with acting out the Easter story.
We are also hoping to draw bright, colourful pictures today to display in school to symbolise after the storm comes a rainbow. I wonder how many of you have rainbow pictures and messages of hope up on your windows? They really do cheer people up.
I hope you all have a good day and enjoy some on- line learning.
Take care.
Mrs Burden
Wednesday 1st April 2020 - Live Mass
Hello all
Today the children will be watching Mass that Fr Eugene is live streaming from the Lady Chapel in Holy Family Church at 10:00am. We are hoping he is going to give us a 'shout out'.
This afternoon the children are going to continue putting together a drama based on the Easter Story. We are filming it so we will be able to load it on to our website for you all to see.
I do hope that you have a good day and continue to enjoy your on – line learning. It has been lovely to see all the photos you are sending in. Please keep them coming.
Have a lovely day
Mrs Burden
Tuesday 31st March 2020 - School Assembly
Good morning all,
Every day we have been having mini assemblies in the hall where we think about what we have been doing during the day and pray for all those working to support the country during this difficult time.
Today we are going to have our first Tuesday Gospel assembly where the children will listen to the gospel reading about Lazarus and reflect on its meaning . Please see attached the PPT and questions children will be asked to think about and discuss. Maybe you would like to discuss these questions with your family and send in your responses to the school email. If you do this before 3:00pm on Tuesday I will be able to share your thoughts and ideas with the children in school.
Thank you and take care.
Mrs Burden
Monday 30th March 2020 - Mindful Monday
Well, today was our first Mindful Monday session. We reflected on being GRATEFUL and what this meant to us. We shared with one another some of the things we were grateful for this week –
"The warm sunshine"
"Delicious food"
"My Mum and Dad"
"For being well and healthy"
Did you complete the activity at home too? What were you grateful for?
I hope you enjoyed some time to be 'mindful of the moment' and to appreciate the things we all have in our lives.
Look out for Mindful Monday Week 2 next week! – We will be focusing on RELAXING
Peace Out!
Jo Creese
Monday 30th March - Spring is here!
Dear Parents and Children
We hope you are all well and that you have all had a lovely week end spending time doing things you may not normally have time to do. As you can see, the school is looking particularly lovely at the moment. Many of the spring flowers are out and the school field is full of bright red butterflies.
This week Mrs Creese is going to start her 'Mindful Mondays'. On a Monday afternoon the children in school will gather in the hall and complete this week's mindful activity based on Gratitude, followed by a mindful meditation. Please join in by accessing the resources under:
- Essential News and Information- Mental Health and Well -being – Mindful Mondays.
Have a lovely day and keep up all the great work you are doing with the on-line learning.
Mrs Burden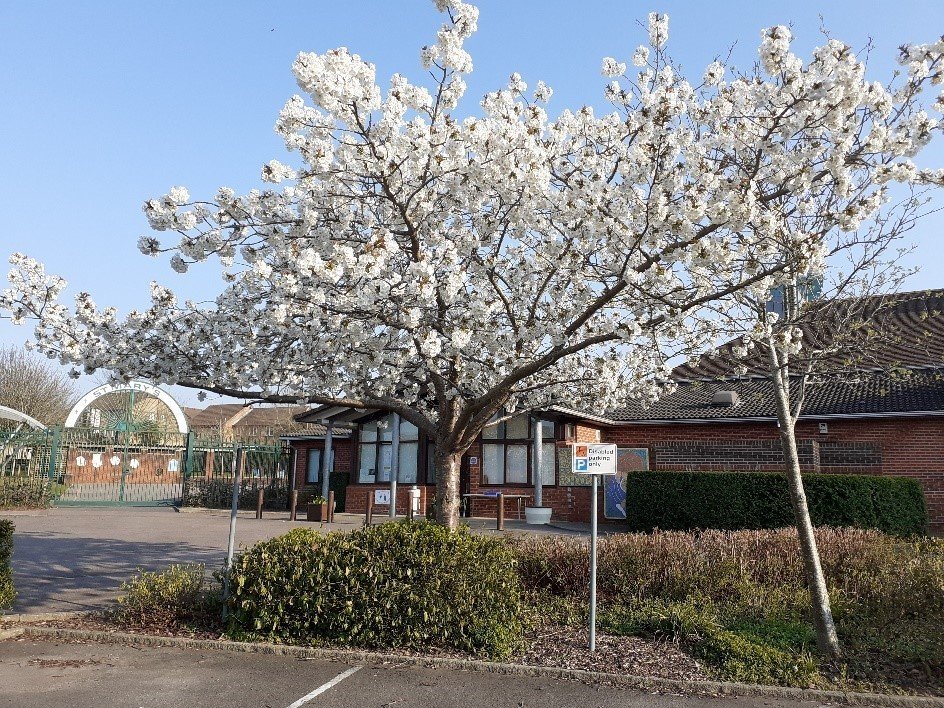 Friday 27th March 2020 - The end of the week
Dear Children
We have finished our first week in our 'Partially Open School'. As I said before it is quite strange to be in school with a only a few children and staff- it is very quiet and very clean and tidy ! As well as completing on- line work children have enjoyed taking part in various activities. They have been playing sport: football, cricket and rounders, pond dipping, weeding the garden plot, planting potatoes, finding frogs, riding bikes (a few children have learnt to ride a bike without stabilisers), making nature pictures, playing board games, reading books and listening to audios. All of their behaviour has been exceptional; you will be pleased to know they have all stayed on green.
This morning we celebrated Mrs Crease's birthday – we sang Happy Birthday to her and shared some chocolate birthday cake. (We didn't have any candles on the cake). We are being very mindful about following government advice in terms of washing our hands and keeping our distance from one another when possible. Although we are having a good time in school we do all miss you very much and look forward to us all being back together again. We hope you are enjoying your on- line learning and managing to get outside, enjoy the sun and have some exercise. We look forward to seeing and hearing about what you have been doing once our photo page is ready for you to use.
Please remember our values this term – Intentional (think about what you are doing) and Prophetic (speaking out about what is right) and try to apply them in your everyday life.
Take care and be safe.
Mrs Burden
Friday 27th March 2020 - St Mary's Pupils' Blog - Week 1 – by Rosa
This week we had the chance to do lots of fun things; we did gardening and cleared the shed out, we did pond dipping and litter picking and it was so much fun! We also had a special visitor come in and did rounders and man hunt with us. At break time we had a lot of things to do like, we had space hoppers and the yellow bikes. We were lucky it was warm so we could go out in the sun for long breaks!
| | | | |
| --- | --- | --- | --- |
| | | | |
| The flower beds are all ready for planting! | Some of our outdoor art. | Look what we found in the pond! They were so fast! | The shed has never been so tidy! |
| | | | |
| Mrs Creese's birthday | Picnic in the sun | Listening to David Walliam's story time | |
Friday 27th March 2020 - Nearly the Weekend
Good morning,
It's Friday! We have nearly completed a whole week of home learning and I think we are all ready for the weekend!
Did you join in the NHS Clap with your family last night? What a wonderful way to say thank you to all those amazing people that are helping us all.
Let's see what amazing things we can learn today. If you need a break or something to listen to when you are learning, there are some great audio books to listen to. David Walliams reads a new story every day at 11am, which is most suitable for KS2 pupils and Audible have released plenty of free books for the next few months. Parents, please monitor what your child is listening to, as we haven't been able to check the appropriateness of all the books, even though they are for children.
Have a good day.
Thursday 26th March - Competition time
Good morning all,
How are you? We hope you have managed some time in the sunshine the last few days - it has been beautiful.
How is the online learning going?
The Diocese have set up a competition - if you have a chance, why not give it a go! Details and application form below:-
Message from the Diocese - Competition Time
To write a short story between 500 and 750 words on the theme of Hope. It can be anything you like
Adventure
Science Fiction
Comedy
You may never have written a short story before but have a go! We are interested in your ideas. Be imaginative.
Closing Date Friday 3rd April 2020. Entries should reach us by 4pm on Friday 3rd April
We are going to run a competition every fortnight - everyone is invited to take part.
There are 3 age categories
below 8

8 to 12

12 and above.
There will be a small prize for each group winner and winning entries will be published on line. Each competition will reflect a different skill.
Please send your entries to
competition@cliftondiocese.com
You must include on a cover sheet
your name
your age
your school
Winning entries will be published online.
Application Form to complete - APPLICATION FORM
Good luck :)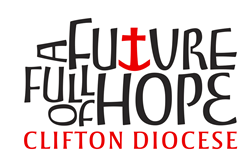 Tuesday 24th March 2020
Good afternoon all,
How has your day been? What did you learn, achieve or create today?
We hope you managed to get a little time in the garden to enjoy the warm sunshine. The children in school had lots of chances to enjoy playing outside. Natalie from Year 1, taught herself to ride a bike without stablisers for the first time - well done Natalie, what an amazing achievement.
If you are looking for ways to relax this evening, why not try some yoga! Click on the link below - it is a perfect way to end the day.
Have a good evening.
Tuesday 24th March 2020 - Let's get ready for Day Two!
Good morning all,
Are you all ready for another day of online learning? Don't forget to start the day with some exercise. Joe Wicks wants to reach children in a million houses and schools joining in - will you be one of them? The link is on yesterday's post. I am sure many of you would love to see Mrs Burden joining in in school - maybe we can get a photo!
There will be more apps and websites appearing on the Home Learning page today, so when you have finished the work set by your teacher, there will be other things to do if you get bored. Not everything is about school work though - playing with toys and games, drawing, reading for fun and spending time with your family is equally important. We will be setting up a separate page to offer ideas on how to stay healthy and happy while you are home.
We will also find a way for you to share photos, so everyone can see each other and keep in touch.
Have a good day.
Monday 23rd March (4.30pm) - End of Day One
Dear Parents and Children
We have finished our first day of being a partially open school. It was very strange and quite sad to see the playground so empty today - we have missed you all. Despite this the children in school have enjoyed carrying out their on- line learning, just like you have at home.
We started the morning with a short assembly in the hall to remind ourselves about keeping safe. After this we all carried out the Joe Wicks workout. Children then went off to carry out their learning in different classes around the school. Rec and Yr 1 worked together, Yr 2 and Yr 3 worked together and Yr 4,5,and 6 worked together. As the weather has been so lovely today we made the most of the sunshine and had a picnic lunch outside and extended break times. The children have all been great - we are so proud of them and of all of you at home.
Thank you for all the lovely comments we have received about the on- line learning platform. Staff are working hard to ensure this is kept as engaging as possible.
Take care and keep safe.
Mrs Burden
Monday 23rd March 2020 (midday) - Free online Oxford Reading Tree Books (these are the books we use in school!)
Dear Parents,
Oxford Owl for Home is free and full of activities and fun ideas for you to help keep children building their skills and knowledge whilst schools are closed.
This website contains a wide range of tools and resources, including: a free eBook library and storytelling videos, activity sheets and maths games to help develop maths skills.
The eBook library is a fantastic resource to help your children access books at home. It is easily searchable by age, level and book type. The children can choose to read along or listen to the story
This resource will help to develop their love for reading and continue to challenge and engage the children.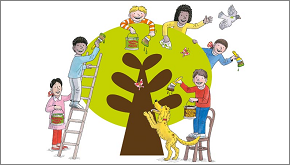 Monday 23rd March 2020 (11.00am) - Technical issues with downloads
We know there are currently issues with downloading the home learning - apparently it is taking ages! Sorry about that. We have a fix though and are quickly redesigning all the pages. They will look a little different but it should speed up the process.
Hope you enjoyed the Joe Wicks workout - 800,000 around the world joined in!!
Monday 23rd March 2020 (7.30am) - Let's go for it!
Good morning all, welcome to our first day of home learning or a slightly different type of school learning if you are still at school.
The homework/home learning site has lots of work to complete for week one. We are working hard to get all the apps up and running for you and details of log-ins will be sent soon.
Why not start the day with some exercise. Joe Wicks is running a 9am exercise class - click on the link below and subscribe to Joe's channel. Let's start the day well!