Latest School Blog
Thursday 1st April - Celebration Assembly
A huge well done to all pupils who have returned to school in such a positive way. Please see our Celebration Assembly PowerPoint covering both Term 3 (during Lockdown) and Term 4.
March 2021 - Lent Reflections
The Chaplaincy Team, with the support of Miss Fitzgerald, have put together several Lent reflection videos for you to share at home; we will be sharing them in school as well. Please click on the link below:-
During Lent we think about how Jesus went into the desert for 40 days and 40 nights in order to prepare himself for his ministry.
During Lent we prepare ourselves for Easter.
We are asked to: -
Fast - give something up or do something extra,

Give Alms- donate to charity

Pray more.
We do hope you find time to reflect with Chaplaincy Team.
Thursday 22nd October - Celebration Assembly
Today is the end of term for pupils and what an amazing one we have had. This afternoon we had our termly Celebration Assembly, which children watched and took part in from their classrooms through Microsoft Teams. Unfortunately we could not have parents in to school to watch the Celebration Assembly and have therefore created the following presentations of the successes and events of the term.
Happy Half Term.
Friday 9th October - The Buddies have finally met
An important step at St Mary's is when the Year 6 and Reception children meet as 'Buddies'. Despite the social distancing measures, it has finally happened! St Francis' Class (Y6) has spent time learning about the importance of having a buddy – that it is their job to help the newest children in the school to settle in, feel safe and have a role model to guide them.
Friday 9th October - What an amazing term we are having!
It has been so good to get back to school and see all the children learning. We have taken every opportunity to have lessons outside and have enjoyed such a wide range of activities. Look at what we have been doing across the year groups.
Wednesday 7th October - St Mary's in the news
We are featured in this month's edition of Bradley Stoke Matters, showing the school winning The Woodland's Trust Gold Award. Have a look by clicking on the link below - page 27!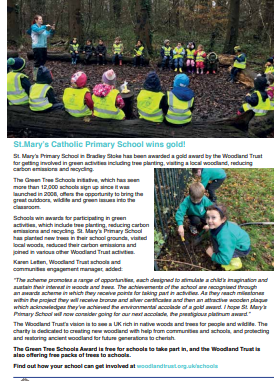 Friday 4th September - We are back!!
All year groups are finally back in school, ready to learn and enjoying being with their friends again.