Chaplaincy CluB
Chaplaincy Club is made up of Year 5 and Year 6 pupils, our parish priest, Fr Eugene Caompbell and our deputy head teacher, Mrs Burden. The club is also open to parishioners, parents and governors who would like support the work of the Chaplaincy team. The club meets regularly at lunch times.
The aim of the club is to support the school in developing its spirituality and Catholicity. This involves planning, organising and taking part in liturgies and reflections, leading assemblies, running a prayer group or reflection time during lunch times, running a Fair Trade stall and being a positive role model to others in the school. Chaplaincy Club members have had the opportunity to go on a number of visits including trips to Clifton Cathedral to meet the Bishop and the Seafarers mission in Avonmouth. The club has also welcomed a number of visitors, such as CAFOD and Trade Craft, to help the club members understand the work of these organisations and promote their work during fund-raising events.
Please click on the link to see our Chaplaincy Club Development Plans
31st January 2019
Last week was World Faith Week for our school and what an amazing week it was. The faith that we were studying was Judaism.
After a week of fun with research about Jewish festivals, foods and rituals, each of the classes shared what they had learnt in our sharing assembly on 28.01.19.
What an assembly! Each class had learned so much and everyone was intrigued with what they had to say. There were bright posters, sweet songs and an incredible interview.
A big thanks to Mrs Lever for organising all of this week and the amazing assembly at the end. I have to say this was one of the best faith weeks we've had so far.
From Esha, (St Francis Class)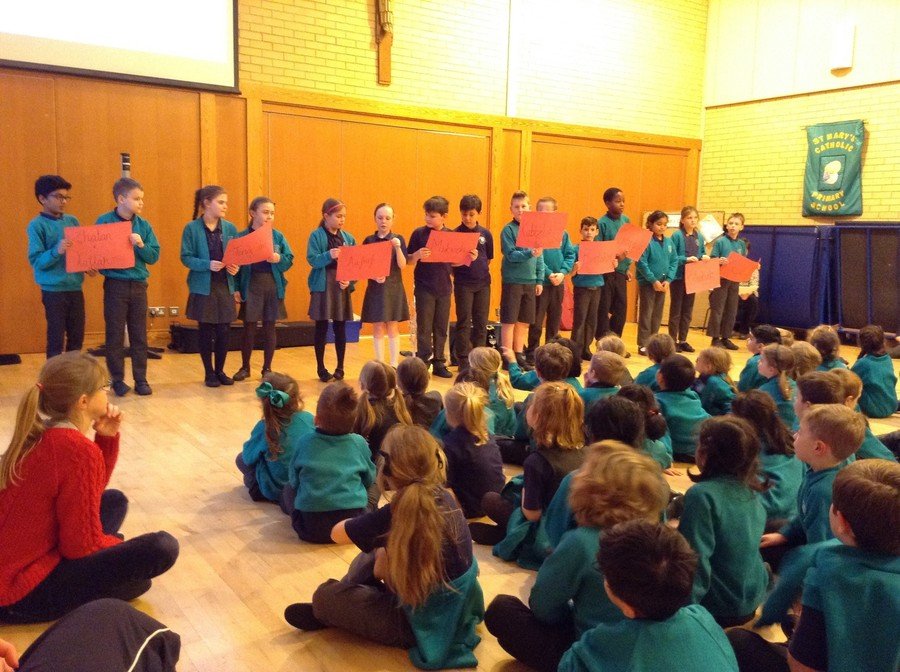 30th November 2018
Chaplaincy Club attended the Commisionning Service in November.
18th November 2018 - Holy Family Parish Mass
Many thanks to Chaplaincy Club, Mrs Burden and Fr.Eugene for preparing the Parish Mass on Sunday. It is always delightful to see children taking on so may roles at Mass and also to hear how seriously the children take on their responsibility as Chaplaincy members. It was a good opportunity to share these roles with the children from Holy Family School.
They also shared the following with the Parish:-
"This is the 6th year of St Mary's chaplaincy team. It has 18 members and is made up of children from Year 5 and Year 6. Some of us were members of it last year when we were in Yr 5. The team have regular meetings during school time."
"When our new chaplaincy team met for the first time we started by thinking about the role of a chaplaincy member. We also thought about the personal qualities that we can each bring to the team. One of the main roles all chaplaincy team leaders agree on is that we act as role models to the rest of the school in both work and play"
"We also feel we have an important part to play in developing the spirituality of the school. New members of the chaplaincy team are commissioned each year by Bishop Declan. This year we are going to Clifton Cathedral on Friday November 30th for the Commissioning Service. This gives chaplaincy teams from across the dioceses an opportunity to meet with one another and share their ideas"
"Some of the things St Mary's chaplaincy team have enjoyed doing so far are: helping with the Harvest Festival, supporting in school assemblies, planning and leading reflections to introduce our new values and leading a remembrance service. As well as the commissioning service we are looking forward to having an advent meditation afternoon with other Chaplaincy teams and raising money for charities."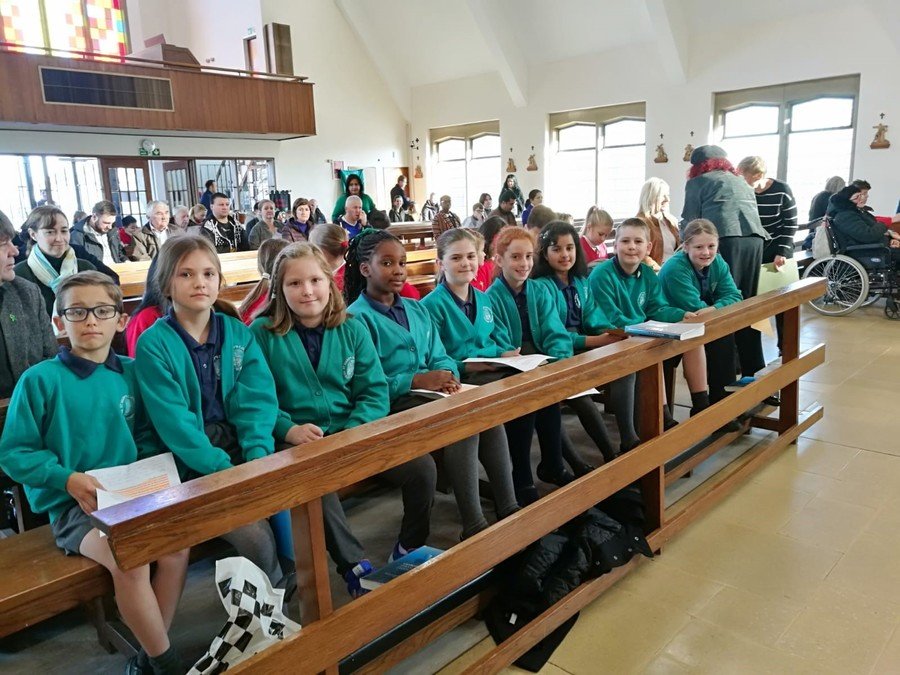 9th November 2018 - Remembrance Day Service
Chaplaincy Club, along with Year 6, led the Remembrance Day Service.
16th October 2018 - Harvest Festival
The Chaplaincy Team led the Harvest Festival on Tuesday 16th October. The generous food donations were donated to North Bristol Food Bank and Holy Family Food Bank.
Friday 24th November 2017 - Chaplaincy Club Commissioning Service
St Mary's Chaplaincy team travelled all the way to Downside Abbey. We shared a coach with Holy Family School. We went to the abbey for a commissioning service with Bishop Declan. This is when new chaplaincy members are officially welcomed by the Bishop as chaplains. There were 70 other schools there from the Clifton diocese.
The Bishop told us we are a family of schools and that we should all be hopeful. He asked us to do 3 things:
To help others believe

To celebrate Jesus' presence in mass, assemblies, reflections, prayers

To live the way Jesus would like us to live
He told us that no one is ever too young for God. He also told us that Jesus' first disciples were probably just teenagers when Jesus asked them to help him spread the good news. Finally he asked us to help make our schools happy and joyful places and that our schools should be schools full of hope. The service ended with new Chaplaincy members being presented with badges and certificates. We are now going to give out the certificates
Friday 10th November 2017 - Remembrance Service
On Friday 10th November the Chaplaincy Team led the whole school in a Remembrance Service.
Some of the Chaplaincy Club children came dressed in Cubs, Brownies and St John's ambulance uniform to show their respect. The team explained why we have Remembrance Day and shared a poem called Please Buy a Poppy. St Augustine's class made poppies to decorate the hall with.
October 17 - International Rosary Day
On Wednesday the 18th of October the Chaplaincy team led an assembly based on the rosary for International Rosary day. First of all we explained what the rosary is and the history behind it. We taught the whole school the mysteries of the rosary and how it was named by a priest called Dominic. We also did a role play based on the children of Fatima and how Mary appeared to the 3 shepherd children.
The whole school then took part in saying the rosary. Each class took it in turns to lead with a Hail Mary. At the end of the service Chaplaincy team gave out rosary cards and rosary beads to all of KS2 so they would know how to say the rosary in future and also teach their parents. It was a very special service.
October 17 - Harvest Festival
On Tuesday 10th of October, Chaplaincy Club led the Harvest Festival for the school. We watched as each of the different classes joined in with the assembly. There was a range of songs, poems, drama and readings all based around the theme of giving thanks for our harvest. The whole school was entertained by the other classes and everyone enjoyed it. We were also able to admire the wonderful collection of donated food that the school brought in. The food donations were shared equally between the North Bristol Food Bank and the St Vincent de Paul organisation in Holy Family Church. Every single person in the school enjoyed it, making it a day to remember.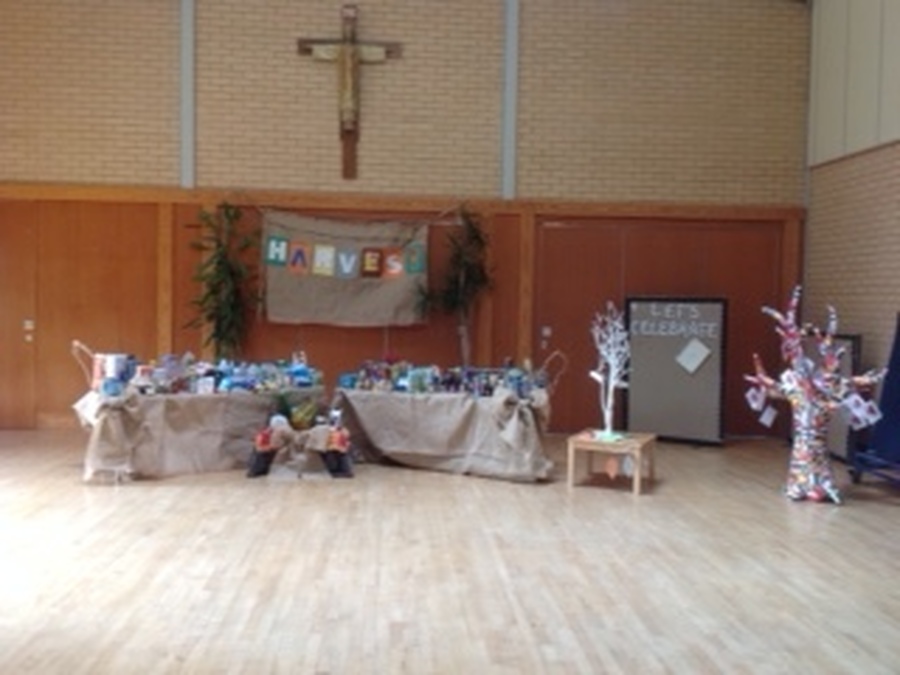 June 2017
Our Chaplaincy team has been very busy since we last spoke to you in January. We would like to tell you about some of the things we have been up to:-
At the start of February we led a Candlemas reflection to tell the rest of the school about this day. We created a special atmosphere by using candlelight to help the children think about how they help bring light in to others lives. Towards the end of February we met up with chaplaincy clubs from other Catholic schools in South Gloucestershire. This was to share with one another different ideas for Lent reflections, which could be used back in school. During Lent we held Lent reflections on Friday mornings for members of the school community. All agreed they were very popular and helped people think about what they were doing to prepare for Easter. As well as Lent reflections Chaplaincy club helped Fr Eugene celebrate Ash Wednesday Mass. The week before the Mass Fr Eugene came into school and spoke to us about how the ashes are prepared for Ash Wednesday. He explained where the palms come from and then demonstrated how they are burnt and oil added to them in readiness to use for marking crosses on fore heads.
Just before the Easter holidays Chaplaincy Club organised and ran a fund raising fair to raise money for CAFOD. The theme for CAFOD's fundraising this year was 'turn little fish into big fish'. We had a number of stalls ranging from games, crafts and cakes. They were all around the theme of fish. We were delighted with the amount of people who came to support this fair and with the amount of money we raised. Children in school also decorated a fish template with loose change. Together these fund raising activities raised well over £200 for CAFOD.
After Easter we were lucky enough to be involved in a surprise celebration for Fr Eugene's jubilee year. We hosted a tea party with Holy Family Chaplaincy club for Fr Eugene, his family, friends and governors of both schools. During this tea party we presented Fr Eugene with a 'This is Your Life' special, a book of photos and memories from his life so far and a garden bench for him to sit on when he is in school. It was a lovely way to celebrate.
Every year in May we honour Mary, the mother of our Lord, by either having a mass or service for Mary. In order to celebrate the many different nationalities that make up our school community we said a decade of the rosary in some of the languages which the children in our school speak. Many Chaplaincy Club members were involved in helping to prepare children to say the Hail Mary in a different language.
As we come to the end of the school year we still have a number of things to look forward to and prepare. In June some of us will be going to the Cathedral to celebrate Mass with Bishop Declan and Year 6s from all over the Clifton Diocese. In July some of us are attending a RE and Sci-Fi day which we are very excited about. Also in July some of the Year 6s Chaplaincy Club leaders will be leading the rest of the Year 6 class – St Francis - in an end of year retreat in Glastonbury. We really enjoy our time in Chaplaincy Club and would like to thank Fr Eugene for all the support he gives us with this.
Chaplaincy Club
March 2017 - Chaplaincy Club's Fishy Fair
On Friday 31st March, Chaplaincy Club, in order to raise money for CAFOD, organised a Fishy Fair that took place in St. Mary's hall. We managed to raise £133.21 for CAFOD to help raise money for people in developing countries.
In 1 hour, (3:30pm – 4:30pm) Chaplaincy Club members, led by Mrs Burden, partnered up in pairs, and organised 11 stalls, they were:
Splat the Fish (Nemo)

Fish Decorating

Cake Decorating

Spin the fish

Hook the Fish

Name the Fish

Guess how many fish cookies

Fish Necklaces

Finding Nemo Trail

Pin the tail on the fish

Cake Stall
Many parents helped with the stalls and many families attended to help make this event a great success. It was lovely to see some ex-Chaplaincy Club members return to St Mary's to participate and help out with the stalls. The Disney CD in background, the chatter and Miss Horsley selling her books for the Scholastic Book Fair, all helped to make a happy, buzzy atmosphere. We would like to say a big thankyou to all Chaplaincy Club members and their parents who made this event successful.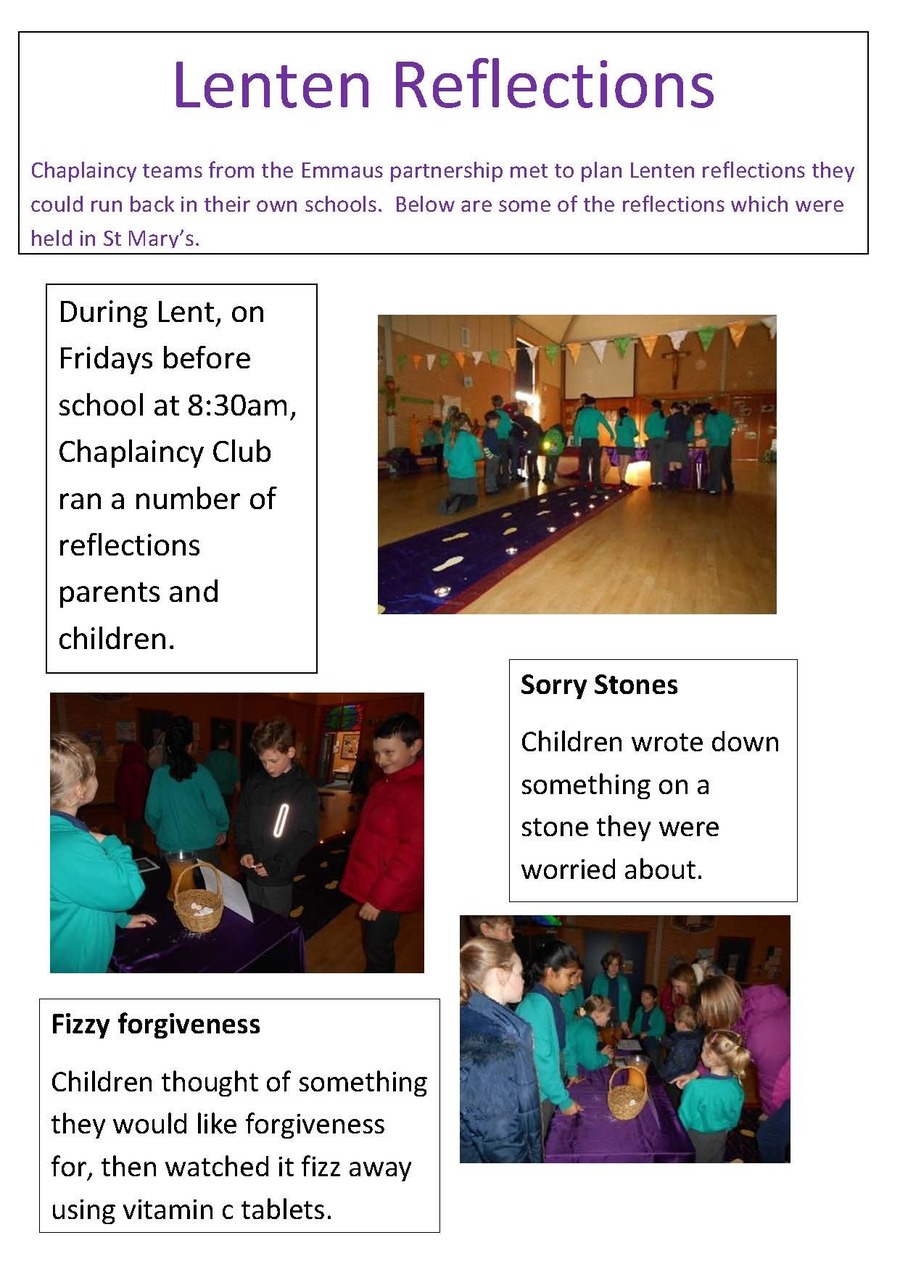 1st March - Ash Wednesday
Candlemas - Thursday 2 February 2017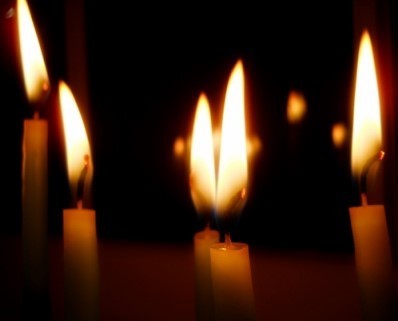 Chaplaincy club ran a Candlemas reflection to tell the rest of the school about the meaning behind Candlemas.
Here are some quotes from those that were there.
"I felt very proud of Chaplaincy Club, the reflection was very peaceful and the children very reflective."
- Mrs Burden Chaplaincy Club Leader.
Mrs Thomson "A lovely service from the Chaplaincy Team. Thank you."
Yr. 6 pupil "The darkness and candle light helped me to reflect."
January 2017 - Mass at Holy Family Church
On Sunday 22nd January 2017 Chaplaincy Club, along with Holy Family School Chaplaincy Club, attended Sunday morning Mass at Holy Family Church. Both Chaplaincy Clubs led different parts of the Mass. St Mary's team read the first reading, led the Responsorial Psalm and read some of the bidding prayers. Holy Family team read the 2nd reading and some of the bidding prayers. Both teams took part in the offertory.
We started the Mass by carrying the banners for each school up to the altar. After the gospel reading each Chaplaincy Club took turns to tell the congregation a little bit about their work both schools. After Mass we held a cake sale to raise money for Children's Hospice – South West. We raised £62.30. We would like to thank Fr Eugene and all the parishioners of Holy Family Church for their support.
St Mary's Chaplaincy Team.
October 2016 - Our trip to meet the Bishop
September 2016 - Our trip to St Paul's school to meet other chaplaincy club members
We visited St Paul's Catholic school in Yate to meet up with other chaplaincy teams in our Emmaus cluster. When we arrived we were shown in to their parish hall and had a drink and a biscuit. To get to know a little bit about each other we played a game of name bingo, where we asked different chaplaincy members questions about themselves and if they answered yes we wrote their name down. St Paul's then told us about their Mini Vinnies meetings they have. St Augustine's spoke to us about their fair trade stall they run every Friday during break time. We ended our meeting with a prayer and a hymn.
It was interesting meeting other chaplaincy club members from other schools and hearing a little bit about what they do as a chaplaincy team.