31st January 2019- Multi-Faith Week
Last week was World Faith Week for our school and what an amazing week it was. The faith that we were studying was Judaism.
After a week of fun with research about Jewish festivals, foods and rituals, each of the classes shared what they had learnt in our sharing assembly on 28.01.19.
What an assembly! Each class had learned so much and everyone was intrigued with what they had to say. There were bright posters, sweet songs and an incredible interview.
A big thanks to Mrs Lever for organising all of this week and the amazing assembly at the end. I have to say this was one of the best faith weeks we've had so far.
From Esha, (St Francis Class)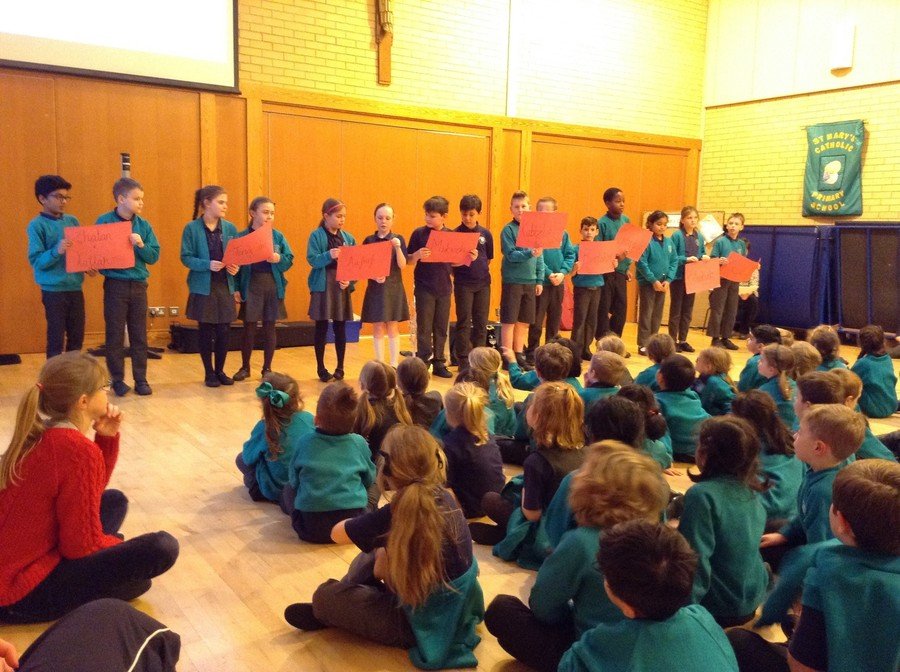 Tuesday 22nd January 2019 - Trip to Park Row Synagogue
Today St Martin's class had a fantastic visit to a Synagogue in Bristol as part of our World Faith Week. It was a brilliant opportunity to look at another faith's place of worship, try some of their food, learn about their traditions and ask lots of questions! Thank you to Park Row Synagogue for hosting such a fascinating morning.
Monday 14th January 2018 ....Clubs are back!
Clubs have started again for Term 3. Cookery Club started off this term by baking Kings Cake; a traditional cake eaten to celebrate the Epiphany.
Wednesday 12th December 2018 - KS1 Christmas Play, Around the World
What amazing performances. The pupils learnt so much during the Christmas Play! They learnt about how children around the world prepare and celebrate the season of Christmas, including how in Poland, Ireland, China, Australia, Malawi and the USA, children have their own special customs and traditions. At the heart of all these special customs and traditions is the birth of the baby Jesus, God's son, the light of the world. We remember the angels, Mary, Joseph and all the other important figures.
30th November 2018
Chaplaincy Club attended the Commisionning Service in November.
26th November 2018 - Brass Concert
In year 4, we were given the opportunity to learn a new instrument and this was the French Horn. This is one of the more tricky brass instruments to learn, but we really enjoyed it. Even Mrs Webster had a go at this!
Our teacher, Alice was really impressed with us and we were able to learn several different notes and put them together to perform some simple tunes. We finished our learning with a concert that we performed to some other classes and to parents.
18th November 2018 - Holy Family Parish Mass
Many thanks to Chaplaincy Club, Mrs Burden and Fr.Eugene for preparing the Parish Mass on Sunday. It is always delightful to see children taking on so may roles at Mass and also to hear how seriously the children take on their responsibility as Chaplaincy members. It was a good opportunity to share these roles with the children from Holy Family School.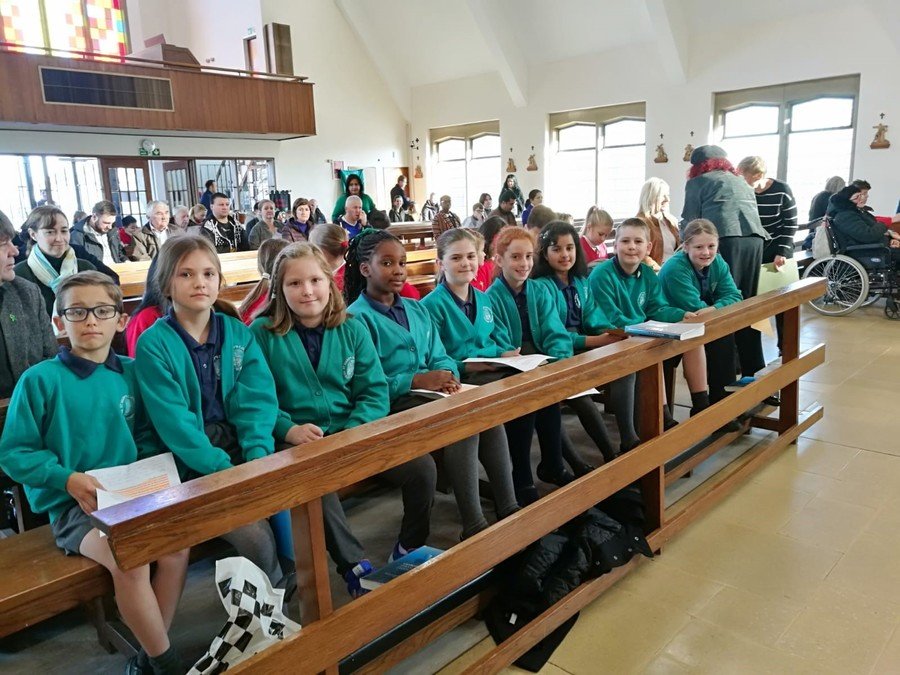 16th October 2018 - Harvest Festival
The Chaplaincy Team led the Harvest Festival on Tuesday 16th October. The generous food donations were donated to North Bristol Food Bank and Holy Family Food Bank.
26th September 2018 - Settling in
The children in Reception have settled in quickly and have made a great start to school life. For most, the highlight of the week was their first Forest Friday session. They all went on a bug hunt to discover all the mini-beasts that live in and around our school pond.