St Martin de Porres' CLASS (YEAr 5)
Welcome to Year 5 - Mrs George's Class.

Please see below a topic overview of what we will be learning in Term 1 and a curriculum overview for the year.
Monday 16th April 2018
Last term we concluded our Ancient Greek topic by designing and making our own Greek Pots. We found working with clay great fun but quite difficult when making clay pots using the coil technique. Thank you to Alicia, our class governor, who came in at the start of the day to show us some of her Greek pots and read a story to us in Greek!
Wednesday 11th April 2018
As we finish off our topic on Democracy the Year 5 class had an exciting debate today about whether or not people under 18 should be allowed to vote. The pupils were fantastic in their listening skills and how they articulated their arguments. They were so respectful towards each other in their debate and we definitely have some possible future MPs!
Friday 16th March 2018
Well done to pupils from Year 5 and Year 6 who represented the school in a choir concert at St Bede's Catholic College recently. They performed alongside other Catholic schools in the concert that had the theme of Creation. In addition to this they performed their solo piece of "Love my Life" by Robbie Williams, we had prepared this song following our work during Children's Mental Health Week. It was a fantastic performance, well done!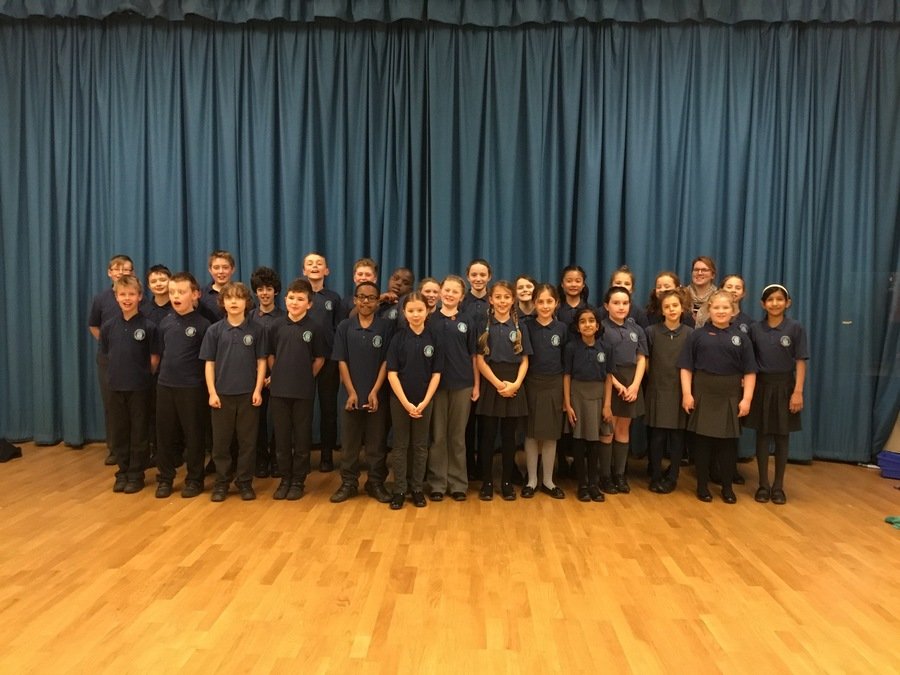 Friday 23rd February 2018 - Space Detectives
St Martin's class had a great day being Space Detectives, we learnt all about the Earth, Sun and Moon. We carried out different experiments, experienced some outer space virtual reality and made our own orrery. Thank you to all the effort that was put in for our fancy dress competition, there were some fantastic space themed outfits!
Wednesday 21st February 2018
Last term St Martin's made some fantastic boats for our science lesson. We were investigating water resistance and streamlined shapes. Thank you to all the parents who helped at home and well done to the pupils for some very imaginative ideas!
Friday 26th January 2018
St Martin's class took advantage of the sunny weather yesterday and went outside to test our parachutes. We have been exploring air resistance by creating parachutes changing the materials and the sizing. It was great fun, even if it was a little windy!
Monday 6th November 2017
On Monday 6th November St Martin's class were treated to a visit from Father Eugene. He came in to talk to us about pilgrimages and gave us so much information! It was great to hear about his own personal pilgrimages to Lourdes and it helped us to produce some fantastic leaflets all about pilgrimages. Thank you Father Eugene for being such a great visitor!
Thursday 19th October 2017
On 19th October St Martin's class set up a gallery for parents to come in and see some of the great work they had been working on in their first term in Year 5. They showed off some very thoughtful artwork representing different parts of the Beatitudes that they had been working on in their RE lessons, as well as some of their very exciting dilemma stories from their English lessons. Thank you to all of the parents who came along and well done to the students for some fantastic learning!
Wednesday 18th October 2017
St Martin's class were treated to a special visit from our class governor today. She came in to talk to us about lots of different materials and we even got to see some carbon fibre from Damon Hill's F1 car! Thank you to Alicia for coming in, it was great to hear from an expert in materials.
Thursday 5th October 2017
On Thursday 5th October St Martins class carried out various science investigations. We had all planned different experiments around the temperature of tea and as you can see from the pictures we had great fun carrying these out. We compared different materials, different sized containers, different thicknesses of container and different materials of lids.