Friday 6th July - Multi-Skills Tournament
On Friday 6th July St Mary's hosted a multi-skills tournament for reception and year 1 pupils from our Catholic Cluster schools. It was a very hot and sunny afternoon but all children worked very hard as a team, with help from Year 4 pupils!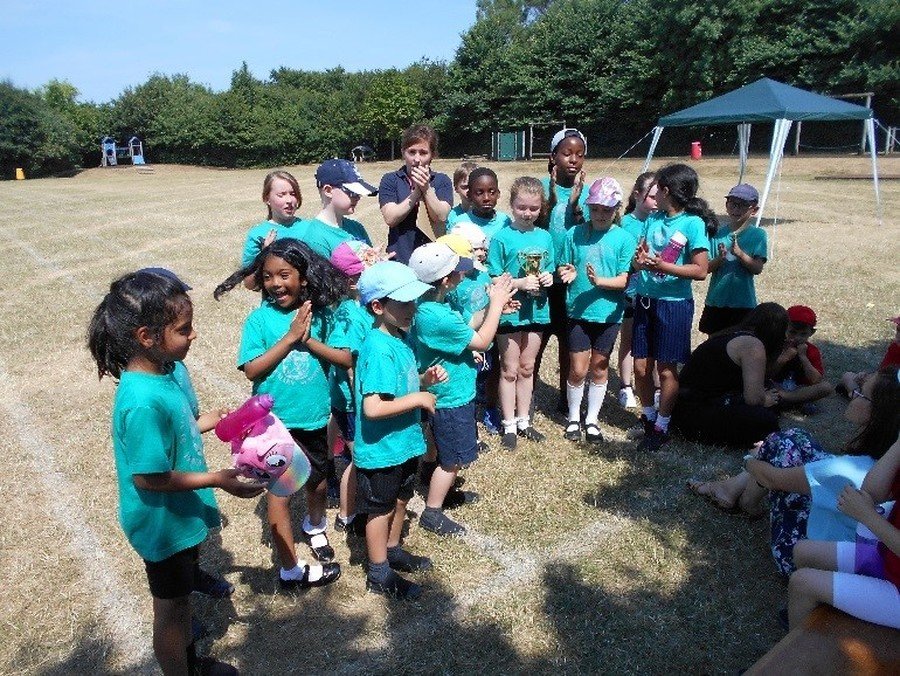 Wednesday 4th July - School Games
On Wednesday 4th July, St Mary's Level 2 Gymnastic Team represented the school in the Level 3 School Games Finals Competition, at Bath University. All gymnasts performed their best floor routine and vault/ springboard run.
Overall the competition was very high and all gymnasts performed amazingly. The team achieved a respectable seventh place and gained a lot of experience from the competition. Well done to Blanka, Zuzia, Holly and Maya.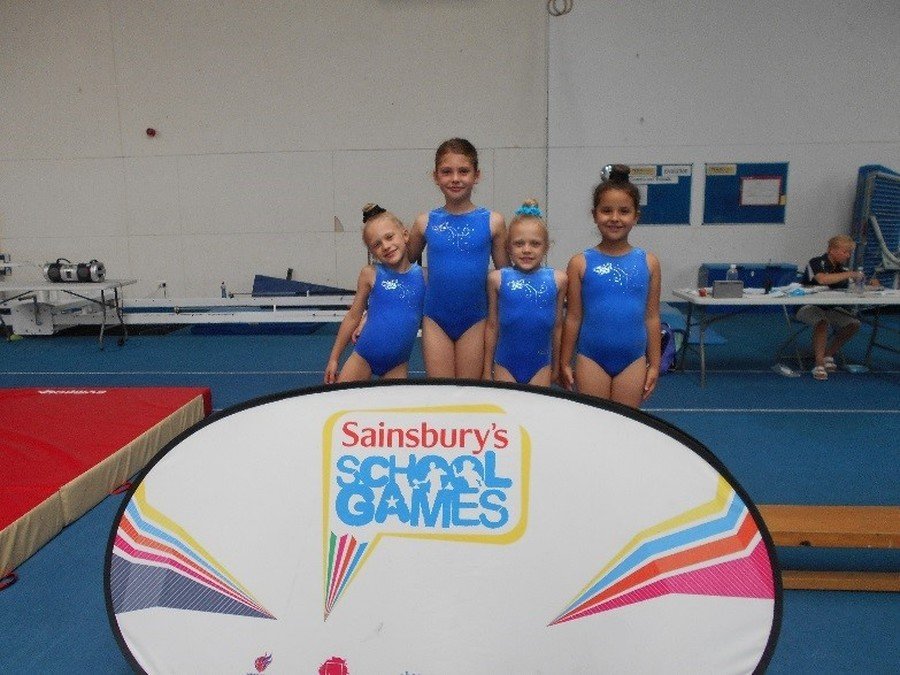 Monday 25th June - Kwik Cricket Tournament
Well done to a group of year 3 & 4 children who represented St Mary's in a Kwik Cricket tournament at Frenchay Cricket Club.
The team played two matches, against other schools. St Mary's won one match and lost another. A big congratulations to all children who took part: Greta, Adele, Abhiram, Hector, Taona, Igor, Natan, Alessio, Josh and Fynley.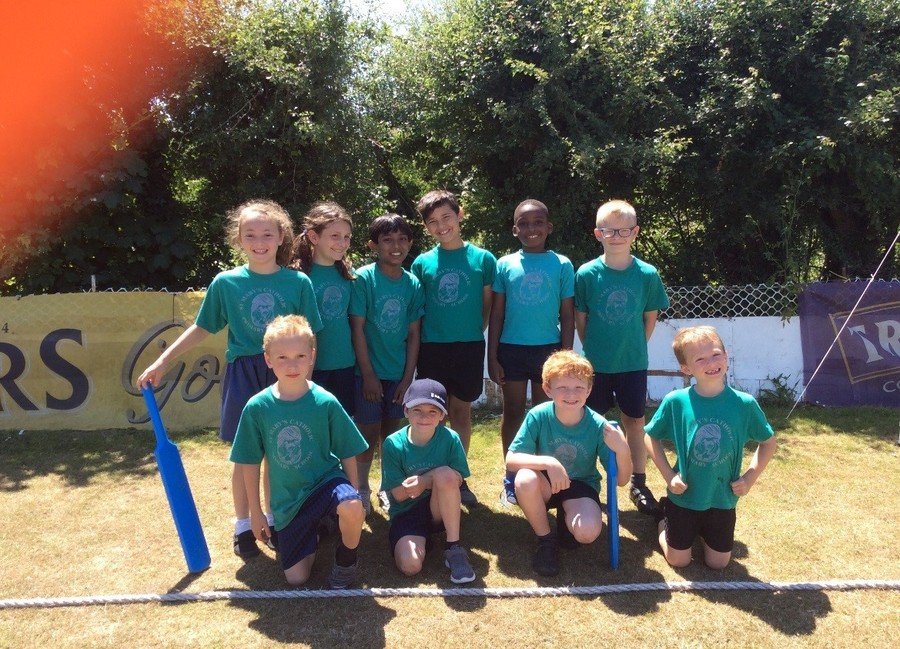 Friday 20th April 2018 - Maths Week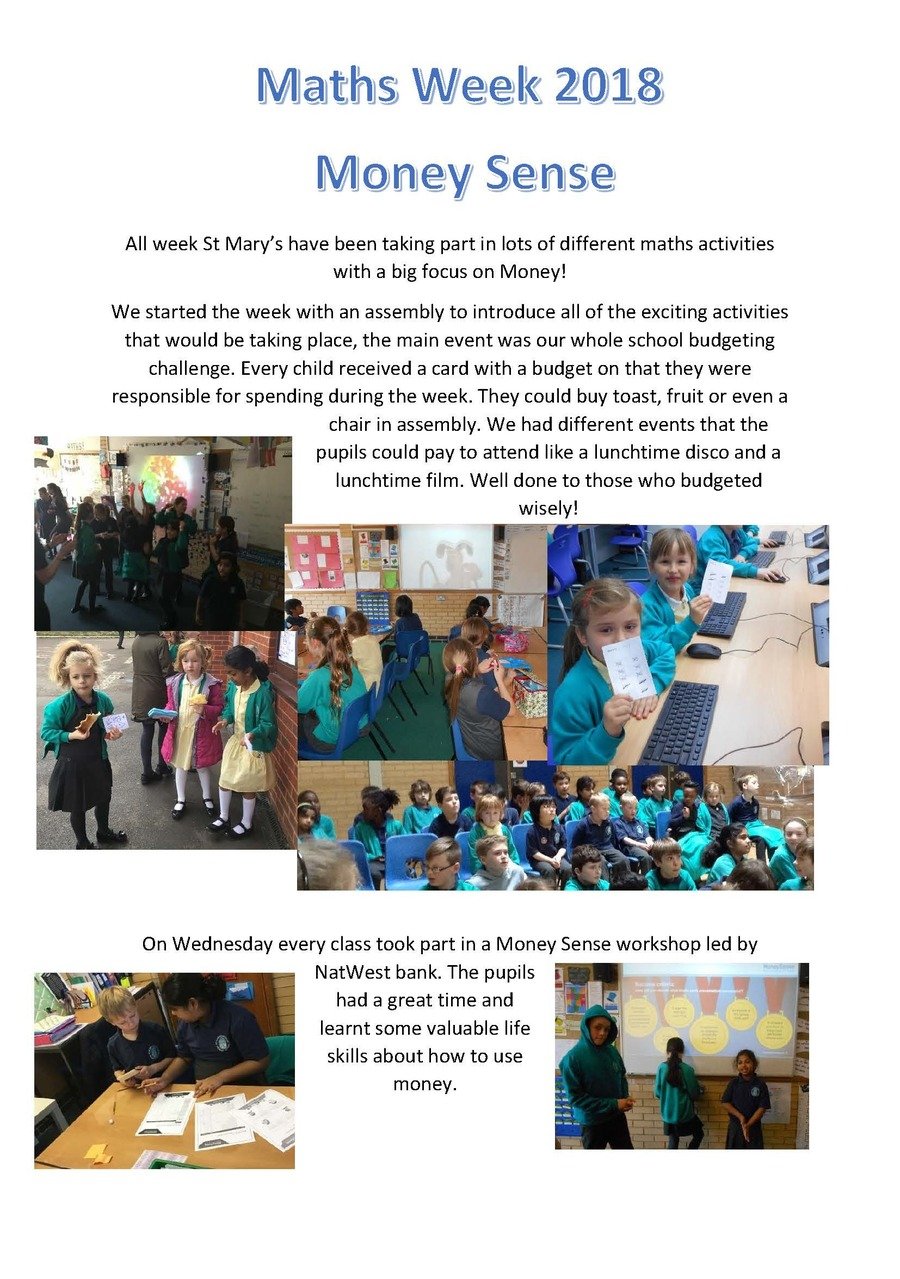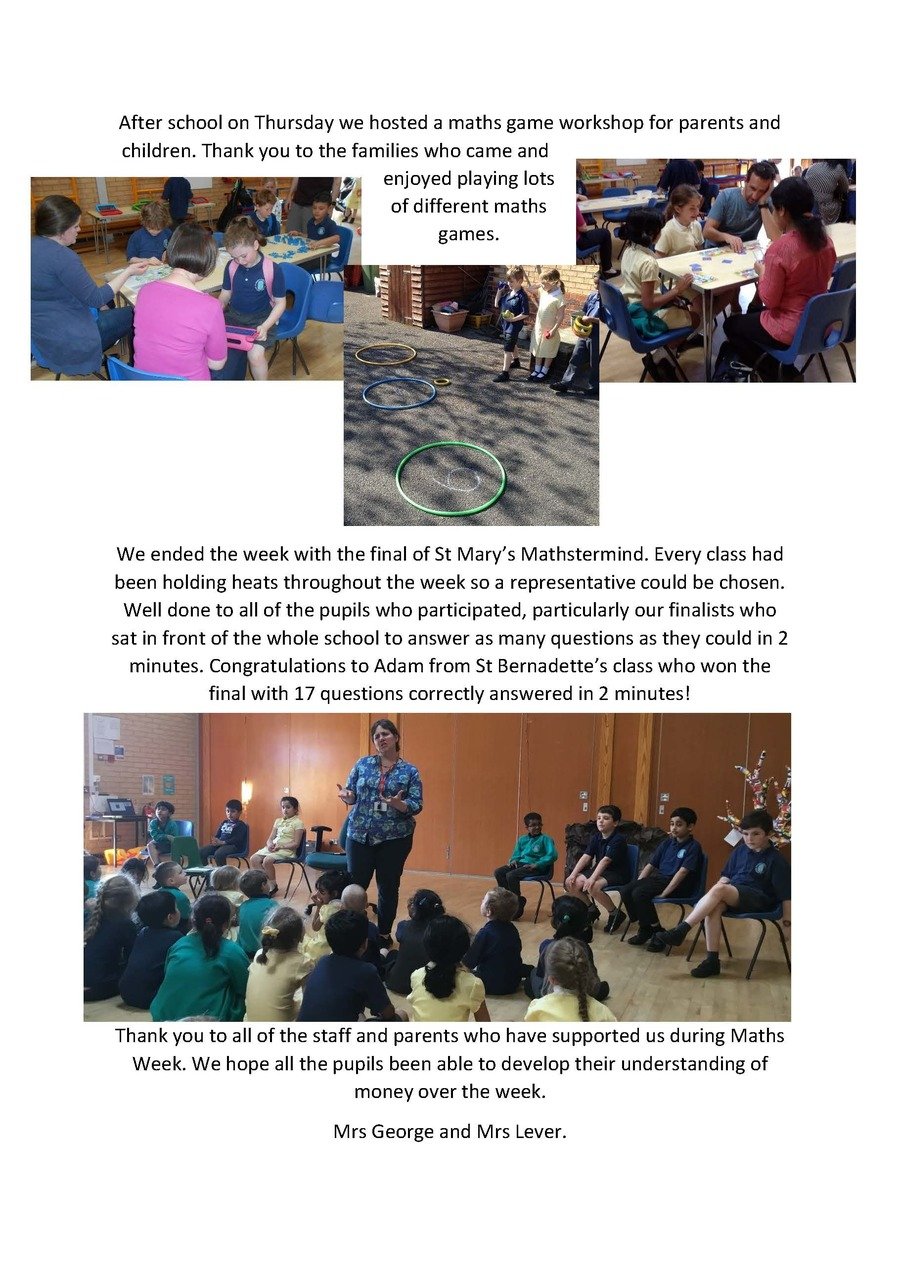 Friday 16th March 2018
Well done to pupils from Year 5 and Year 6 who represented the school in a choir concert at St Bede's Catholic College. They performed alongside other Catholic schools in the concert that had the theme of Creation. In addition to this they performed their solo piece of "Love my Life" by Robbie Williams, we had prepared this song following our work during Children's Mental Health Week. It was a fantastic performance, well done!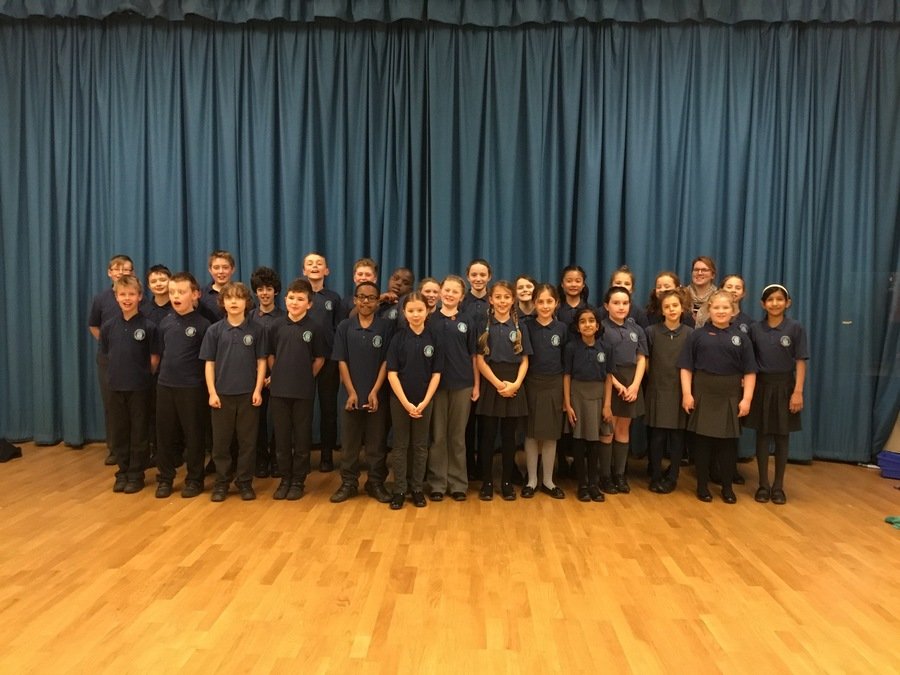 Friday 23rd February 2018 - Space Detectives in Year 5
St Martin's class had a great day being Space Detectives, we learnt all about the Earth, Sun and Moon. We carried out different experiments, experienced some outer space virtual reality and made our own orrery. Thank you to all the effort that was put in for our fancy dress competition, there were some fantastic space themed outfits!
Friday 23rd February 2018 - Dance Festival
Well done to the dance club who performed brilliantly at the Festival of Youth Dance on Wednesday night!

I was so proud of the dedication and enthusiasm that you had from the very first rehearsal all the way to the final performance.
Thank you to Sofia's mum for the photos!
Monday 18th December 2017 - Father Christmas Letters
St George's class went on a walk to post our letters to Father Christmas. We also walked around Bradley Stoke and saw lots of lights on display for Christmas.
Friday 17th November - Children in Need
Children in Year 5 and Year 6 had the opportunity to sing in the Children in Need Choir on 17th November. This was filmed at the local Concorde Museum and they appeared live on BBC Points West and BBC Children in Need. They took with them a cheque for £1790.17 from all the fundraising activities.
Please click on the picture below to see their performance.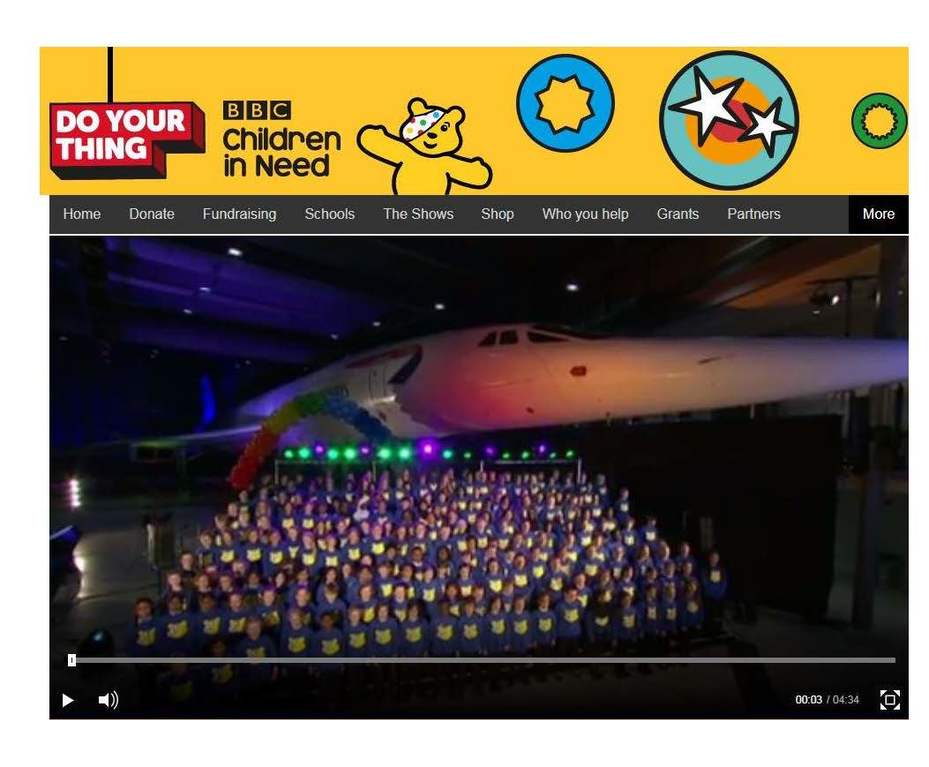 Friday 10th November - Remembrance Service
On Friday 10th November the Chaplaincy Team led the whole school in a Remembrance Service.
Some of the Chaplaincy Club children came dressed in Cubs, Brownies and St John's ambulance uniform to show their respect. The team explained why we have Remembrance Day and shared a poem called Please Buy a Poppy. St Augustine's class made poppies to decorate the hall with.
International Rosary Day
On Wednesday the 18th of October the Chaplaincy team led an assembly based on the rosary for International Rosary day. First of all we explained what the rosary is and the history behind it. We taught the whole school the mysteries of the rosary and how it was named by a priest called Dominic. We also did a role play based on the children of Fatima and how Mary appeared to the 3 shepherd children.
The whole school then took part in saying the rosary. Each class took it in turns to lead with a Hail Mary. At the end of the service Chaplaincy team gave out rosary cards and rosary beads to all of KS2 so they would know how to say the rosary in future and also teach their parents. It was a very special service.
Thursday 12th October
Harvest
Thank you for your generous contributions for our Harvest collection. The donations went to North Bristol Food Bank and to Holy Family Parish, to be distributed to parishioners in need.
Wednesday 11th October
St Mary's Clubs
All the St Mary's clubs are up and running. This week in Cookery Club the children made healthy and delicious vegetable soup. They practised peeling, chopping, dicing and cutting skills. They even cleaned up before tasting the soup.
Thursday 5th October
Year 1 class visit
Year 1 invited their grandparents to come in and visit. We were practising using question marks and we wrote them some questions.
We also followed instructions and made them some delicious cakes.
27th September 2017
Today St Mary's School took part in National Fitness Day.
National Fitness day is an action packed and fun day where everyone in the whole country is asked to get up and move around as much as possible! St Mary's children joined in with a number of physical activities including class exercise sessions, a whole school assembly about the importance of fitness and finally a whole school zumba routine. Children were asked to think about why exercise and fitness is important and how much exercise children should have each day. We also thought about the many different types of physical activities children at St Mary's are involved in . They range from archery to rock climbing, playground games, team games, swimming, gymnastics and running. Many of the children's extra- curriculum sporting achievements are celebrated at the weekly values assembly whereas the in- school sporting achievements are celebrated at the end of term celebrations assembly. The day was a huge success. A special thanks to Miss Eatherington for organising this for us.
27th September 2017
Bike-It Breakfast
Our first Bike It breakfast of the new school year and the weather was kind to us!
We joined up with National Fitness Day by welcoming all who had walked, cycled or used their scooter to get to school.
It was lovely to see everyone enjoying breakfast served up by a fantastic new Bike It crew, who were keen to start the new year of activities.
25th September 2017
Just Joshing' – Antibullying Production
On Friday 22nd Sept Y2-Y6 enjoyed an anti-bullying production, 'Just Joshing', by Firehorse Production. A team of actors gave the children an insight into the problem of bullying, through drama. The drama highlighted the role of the bully, and bystanders, and what to do if you are being bullied. The children were able to see the bullying through the eyes of the different people involved in the bullying, and learned how best to stop and prevent it in their everyday lives.
Monday 11th September 2017
Road Safety
Year 3 - Wow! What a busy start to the year already. We had some Road safety assistants come in from South Gloucestershire council to teach us about important road safety. We learnt the importance of wearing a bicycle helmet from Eggbert the egg. We were also taught about the highway code so that we can use the crossings on the road to help us cross the road safely. Finally we were taught about the importance of wearing a seat belt and the consequences of not. Some us found out we were tall enough to not need a booster seat, however if our parents wanted us to still use it then we understood it was for our safety.